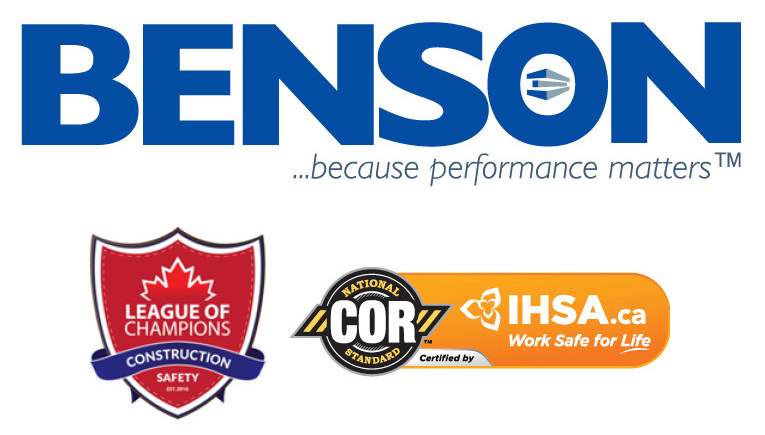 League of Champions (LOC)
Benson Steel has been a member of the League of Champions since 2016 when CEO and President, Stephen Benson agreed to be the very first subtrade to join the league. 
Craig Lesurf, TCA (Toronto Construction Association) Chair, made the invitation and presented Benson with this jersey at Benson's bi-annual safety symposium in June 2016. The League of Champions Jersey is a symbol that represents: safety excellence and commitment.
Benson Steel has worked to inspire and influence workers, stake holders, partners and clients to commit, collaborate, and take action to improve safety culture through awareness, education, promotion, and recognition leading to safer construction workplaces in Ontario.
At the core of our work culture, safety is always the first priority. To ensure the highest level of safety at our manufacturing facility as well as on our job sites, we have an extensive Health, Safety, and Environment Program. 
In 2020 Benson completed our first IHSA COR audit and, after review, we have been presented our OFFICIAL COR Accreditation by IHSA. 
Certificate of Recognition (COR) is an accreditation program. It verifies that a construction-related company's health and safety program has reached a national standard. In Ontario, Infrastructure Health and Safety Association (IHSA) offers the Certificate of Recognition.
Together, the team at Benson works every day to achieve the goal of zero injuries in the workplace.
We are very proud of our commitment to safety and look forward to working with our clients and stakeholders to continuing to build a positive safety culture and environment.