Brock University Residences 8, Niagara region, Ontario, Canada. Steel structure fabricated and erected by Benson Steel. Photo courtesy of: Stephen Leithwood
We are thrilled to welcome GirderSlab® technologies into the Benson Family.
This highly innovative system provides a unique and viable alternative to standard mid high rise residential condominium and multilevel storage facility construction and Benson Steel is the ONLY licensed structural steel fabricator in the Golden Horseshoe area to produce the specific D-Beams® required to build the Girder Slab® construction system.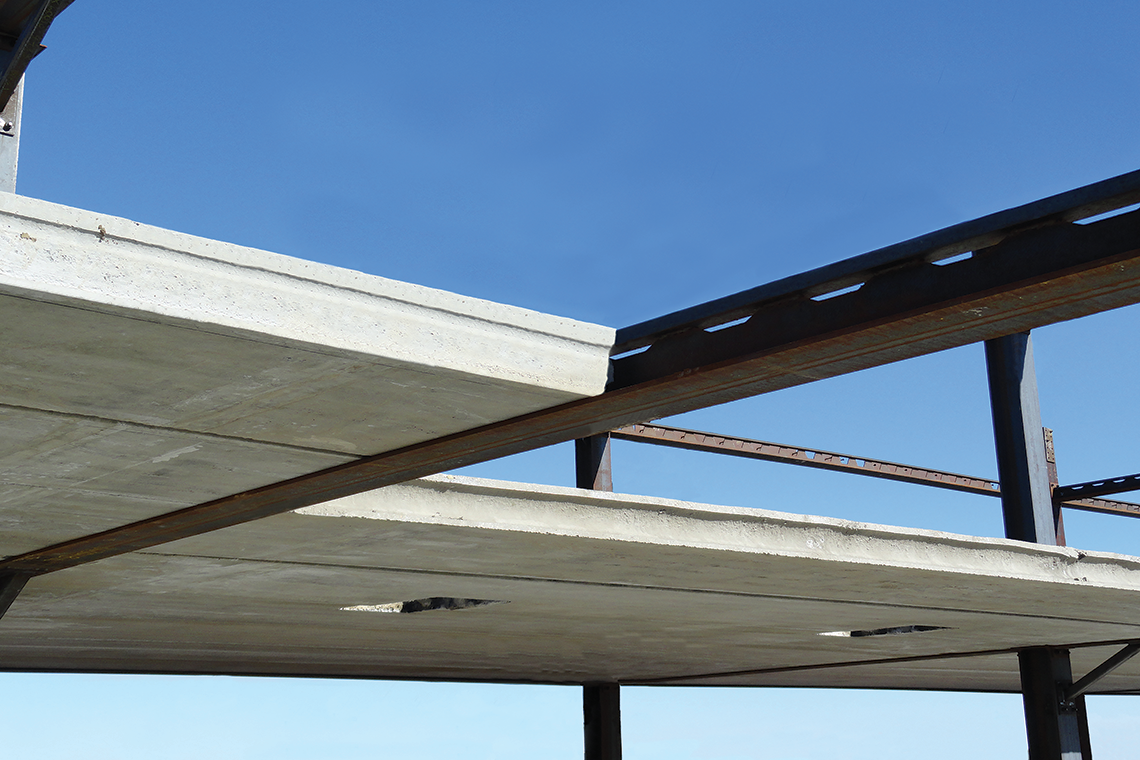 LOW FLOOR TO FLOOR HEIGHTS WITH STRUCTURAL STEEL
The Combined Advantages of Structural Steel and Flat Plate Concrete
The GIRDER-SLAB® system offers low floor to floor heights, but also offers the speed of steel erection and limited impact from weather.  The GIRDER-SLAB® system lends itself to being provided by a single source solution.
BensonSteel is that single source we can budget, fabricate, deliver and install the entire system.
• High floor to ceiling - No interferences.
• Fast structure and building completion.
• Reduced building structure weight.
• Floor plan design flexibility.
• Limited weather impact
(including cold climates).
• Structure and assembly is one source.
• Integrates well with retail and parking areas below.
• Limited on-site labor.
• Reduced on-site overhead costs.
• Factory quality components. ISO QA
System Background
Conventional wisdom for using steel has been to maximize spans and provide universal products that fit nearly any building type.  Girder-Slab Technologies, LLC chose a rather unorthodox approach to find a solution.  First, was determined that precast slab units, common in the mid-rise residential market, combined with a steel frame could offer speed, design flexibility and value.
Although residential unit modules typically vary within a floor, they generally stack vertically for structural support, utilities and shafts.  After considering the modular nature of residential construction, it was concluded that long-span precast slabs in combination with short span steel girders would be both appropriate and efficient.
The D-BEAM® girder overcame the issue associated with a standard wide flange beam sitting below the slab.
The D-BEAM® girder
The D-BEAM® girder fabrication process begins with a standard wide flange section that when uniquely cut through the web produces two equal T sections.  Benson Steel then welds a flat bar to create the top flange resulting in two D-BEAM® girders from one parent beam without waste.